Stacker & Reclaimer
4 Stacker & Reclaimer for an ore deposite
Application
4 Stacker & Reclaimer in an ore deposite

Customer
Baoshan Iron & Steel Co., Ltd.

Operator
MaJiShan Port, [CN]

Product
8 Motorized Cable Reels [Program 7100]
Track length: 582 m with centre feed
Speed: 30 m/min
Mounting height: 5 m [with cable guide]
each with one power drum with cable W-9 - 6/10 kV 3x70+3G35/3; L=330 m
each with one control drum with cable RXG-8 NSTHTÖU 20G2,5+FO18E9; L=320 m
Specific features
Fibre optic rotary joints at the control drum
Relevant Products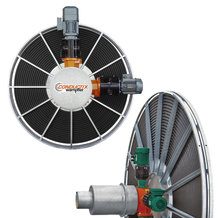 Motor Driven Reels
Heavy Load [HL] Series
Additional information
Modular assembly system - the cable reel can be upgraded after installation by adding drive units.
Magnetic Coupler Drive (MAG Drive) or Variable Frequency Drive (SMART Drive)
5 year or 15,000 hour operation before any maintenance is required - gearboxes are grease-lubricated from the factory.
Optimal corrosion protection to handle aggressive environments - flanges and reel drum are manufactured from hot dip galvanized steel or stainless steel.
Typical applications:
Ship-to-shore (STS) cranes
Rail mounted gantry (RMG) cranes
Ship unloaders
Stackers / reclaimers
Shipbuilding cranes
Product data
Specifications
Travel speed:
- AC motor with magnetic coupler (MAG drive): up to 100 m/min
- Variable frequency controlled (SMART Drive): up to 180 m/min
Winding length: 700 m max
OD of spool:
- Monospiral spool: 1,100 mm - 8,000 mm
- 3-2-3 spool: 1,100 mm - 8,000 mm
Gearbox:
- Type BNA: 1,100 Nm - 19,000 Nm
- Type X07: 1,100 Nm - 11,000 Nm
Slip ring assembly:
- Power low voltage max: 690 V - 1,600 A
- Power high voltage max: 24,000 V - 500 A
- Control max: 500 V - 25 A
- Data: fiber optic, mA
Temperature range: -40 °C - +60 °C
Downloads